Last 2 week our Kayuhbmx team went to the Indonesia biggest extreme sport event called Indonesia Open X-treme Championship (IOXC) and this year its happening in Semarang, Indonesia.
The event was great, with a lot of riders, nice event place, good food in Semarang but only the skatepark was a mess. It's wasn't build by professional people, they just build it by looking at photos. But we got it fixed here and there after meeting with the event organiser and the preliminary round that should start on Saturday has been canceled because the organiser need to fixed the skatepark. We only have Sunday to finished all 70 contestant.
What ever it is, the event went well on Sunday, everybody got to ride the park. The competition went well with a lot of crazy and powerful riding by Indonesian and Malaysian riders. Indonesia has a lot of great riders even thought they don't have a good skatepark.
Riders like Ega, Yudo, Teja, Bondink, Moonthink, Ray Febrian, Jujun, Matthius, Reno Fadilah, Aditiya and a lot more are those riders that you need to look forward every time you come to Indonesia. Talented and hardcore, nuff said.
By the way, in the middle of the competition, we got a bit of drama when Jujun, rider from Bandung want to propose his girlfriend in the middle of the course. It was a sweet moment and a history for IOXC.
Thanks a lot to Asosiasi BMX Indonesia for having us in Indonesia. We hope that Asosiasi BMX Indonesia can help Indonesia BMX scene to grow better and bigger. Till we meet again next time. Cheers.
BMX Stunt Park result
1 – Boondink
2 – Ega
3 – Aditiya
4 – Shami (Malaysia)
5 – Yudo
6 – Samuel
7 – Moonthink
8 – Ade Nurhidyah
9 – Oni Anggoro
10 – Teja
BMX Flatland result
1- Dub Jean William (Canada)
2 – Ben Hudson (Chile)
3 – Rayyan Ibrahim / Shintaro Misawa (Malaysia)
4 – Botay
5 – Botak Kuantan (Malaysia)
6 – Heru Anwari
7 – Haris
8 – Yunfian
9 – Aristyo
10 – Tri Sutrisno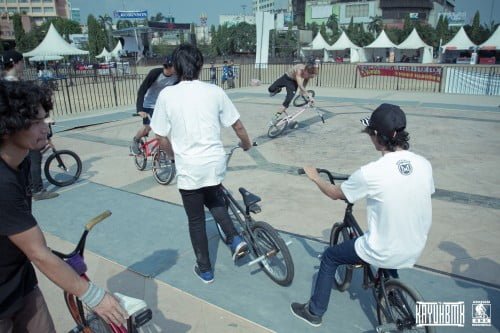 Comments
comments