Twenty Inch Cup – Restart took place successfully last weekend. It was an amazing day for all riders. After 2 years we never have a big event, this time we are back with TIC-R event that is bigger than before.
We named it TIC-R because after a long rest, we think that we need to restart the program back to square one. So top 10 winner from this event will collect points for another Twenty Inch Cup 2022 Grand Finale most probably by end of this year or early 2023.
TIC is one of kind, we tried to involved as many BMX riders that we can to be part of TIC. We tried to make everybody can 'feel as a winner' from many competition categories , best tricks and fun side events. We also got feedback from people that they suggest to make many more categories for beginners, woman/girl and many more. We heard you. We will try to do it next time.
This year also we have a special appearance by Me Sketch (Yon Penang) – a caricature artist that is also a BMX rider that has been active in the caricature and mural art for many years. Thank you Yon for being part of the event.
The event was jam-packed with insane riders, amazing supporters, a very supportive sponsors, and most importantly tons of BMX! This is TWENTY INCH CUP!
Huge thanks to Vans Malaysia for tremendous support toward our BMX community. Without Vans Malaysia TIC event will not be implemented. Also thanks to Kuala Lumpur Cycling Federation (Persatuan Berbasikal Kuala Lumpur – PBKL) for the all help and sponsorhip.
We also would like to thanks to all brands / local business / community that give their support to our event ; Xdizzy, Al-Culture XLupk, Carnadabikes, UndernorthBMX, Flatarts, Out Of Order BMX, Nasi Ganja Huzay, Yard Leather Smith, Basikal Kita, Bangstry, BudakBMX and KKBMX. Without you guys this event wont be a success event.
Video Highlight Coming soon
BMX Street Prelim Result
1 – Ahmad Solehin
2- Muhammad Noor
3- Syafiq Norzazlan
4 – Rafiq Hashimi
5 – Ammar Shukri
6 – Muhammad Nor Stures
7 – Syazani Zulkifli
8 – Muhamad Fahanuddin
9 – Saiful Ariff
10 – Hilmi Asyraf
11 – Idham Ahmad
12 – Ariff Solehin
13 – M. Daniel
14 – Muhaimin Mazlan
15 – Mohd Shaszwan
16 – Amirul Solehin
17 – Hafiz Sofi
18 – Zulkifli Benu Amin
19 – Imran Ibrahim
20 – Muhammad Dzakwan
21 – Ahmad Safuan
22 – Zarul Ilham
23 – Aniq Solehin
24 – Hadi Taisei
25 – Hazman Tumiran
26 – Eng Wai Kian
27 – Muhammad Haziq
28 – Firdaus
29 – Haziq Adrus
30 – Arul Kanda
31 – Nazril Hashim
32 – Bani
33 – Wan Azween
34 – Aiman Jazly
35 – Naqib Ishak
36 – Muhamad Azri
37 – Fakhrul Rozi
38 – Eizzan
39 – Nor Azam Budin
40 -Muhammad Zuhair
BMX Park Prelim Result
1 – Syafiq Norzazlan
2 – Hafiq Sofi
3 – Hafizi Suhaimi
4 – Ameer AL-Hafiz
5 – Muhammad Nor Stures
6 – Rafiq Hashimi
7 – Saiful Ariff
8 – Mohd Hidayat
9 – Muhamad Noor
10 – Ahmad Solehin
11 – Ammar Shukri
12 – Ahmad Safuan
13 – Iskandar
14 – Nor Azam
15 – Syazani Zulkifli
16 – Muhamad Zuhair
BMX Flatland Prelim Result
1 – Afiq Afandi
2 – Hafiz Abd Wahab
3 – Wan Mohamad Shah
4 – Harif Houzay
5 – Edris Salleh
6 – Mohamad Izwan Roslan
7 – Nurhazme Janis
8 – Afrini
9 – Hafaya
10 -Syazwan
11 – Syafiq Wahid
12 – Khairul Azmil Aloy
13 – Hafiz
14 – Abd Jalil
15 – Ajack Zuriadiee
16 – Amy Salleh
17 – Rozan
18 – Nur Qistina
19 – Ruzaini Zulkarnain
20 – Qory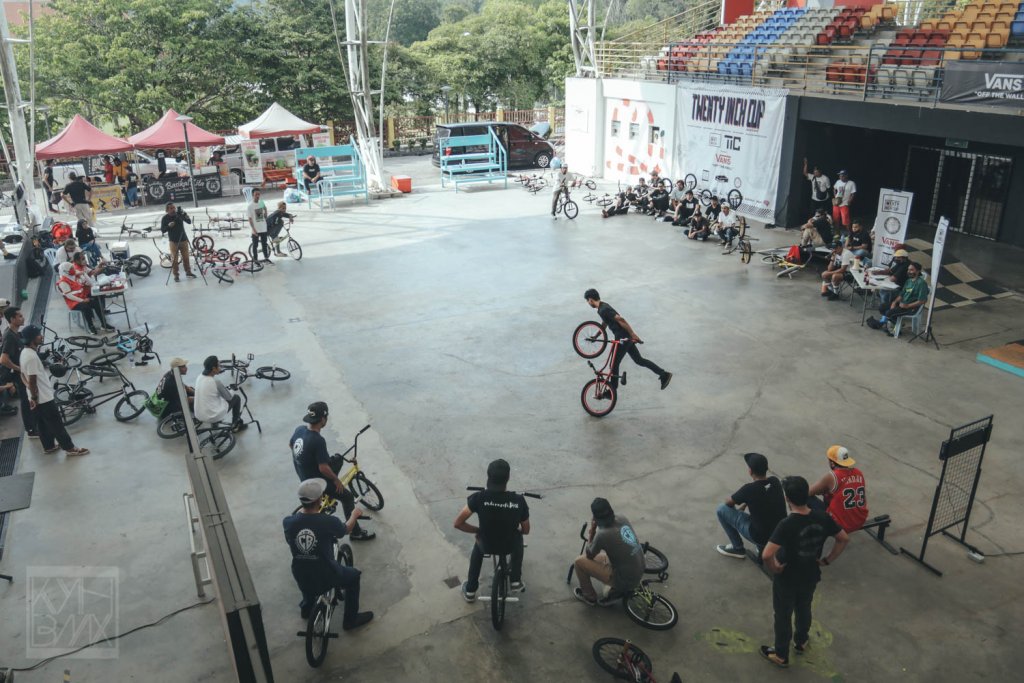 BMX Street Final Result
1 – Muhamad Noor
2 – Ahmad Solehin
3 – Syafiq Norzazlan
4 – Syazani Zulkifli
5 – Rafiq Hashimi
6 – Saiful Ariff
7 – Hilmi Asyraf
8 – Muhamad Farhanuddin
9 – Muhammad Nor Stures
10 – Ammar Shukri

BMX Park Final Result
1- Syafiq Norzazlan
2 – Muhammad Nor Stures
3 – Ameer Al-Hafiz
4 – Saiful Ariff
5 – Hafizi Suhaimi
6 – Ahmad Solehin
7 – Muhamad Noor
8 – Hafiz Sofi
9 – Hidayat
10 – Rafiq Hashimi

BMX Flatland Final Result
1 – Afiq Afandi
2 – Hafiz Abd Wahab
3 – Mohamad Izwan Roslan
4 – Wan Mohamad Shah
5 – Harif Houzey
6 – Edris Salleh
7 – Nurhazme Janis
8 – Hafaya
9 – Afrini
10 – Syazwan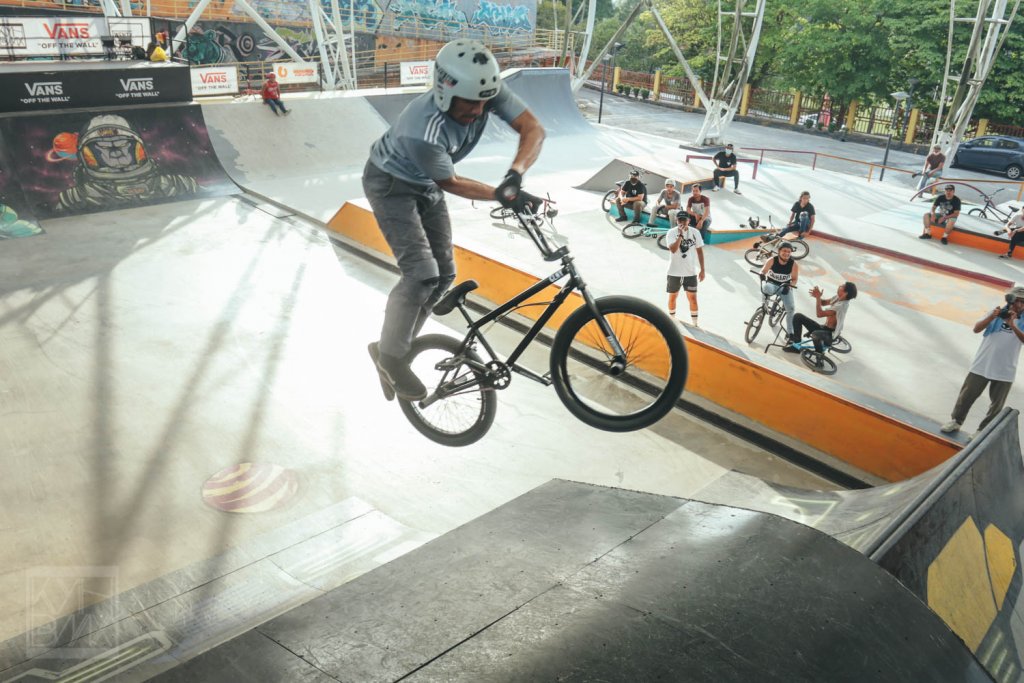 BMX Street Best Trick
1 – Muhamad Noor – Switch double peg to duble peg grind (predator grind) to bar spin
2 – Rafiq Hashimi – Double peg grind all the way to bar spin
3 -Muhamad Farhanuddin – Double peg grind to crank arm grind

BMX Park Best Trick
1 – Ammar Shukri – 180 bar spin fakie over the spine
2 – Syafiq Norzazlan – Backflip Tailwhip
3 – Hidayat – Backflip

BMX Flatland Best Trick
1 -Hafiz Abd Wahab – Upside down bike flip
2 – Mohamad Izwan Roslan – Double peg decade out
3 – Amy Salleh – Style link back to front link
4 -Afrini – Stem boomerang
Comments
comments