Post author:

iwan

Post published:

February 8, 2021

Post category:

Uncategorized
Vans, the original action sports footwear and apparel brand, listened to the BMX community and enlisted insight from Vans team rider Dakota Roche to help build the Slip-On Pro BMX, the first-ever Vans Slip-On to offer Wafflecup BMX technology.
Considered one of the hardest working BMX riders out there today, Dakota's unrelenting drive for street riding has bolstered his professional career and garnered many accolades over the past ten years. In need of a shoe that stands up to his riding, Dak worked with Vans on the Slip-On BMX Pro, featuring a striking two-tone black and white colorway with a black outsole.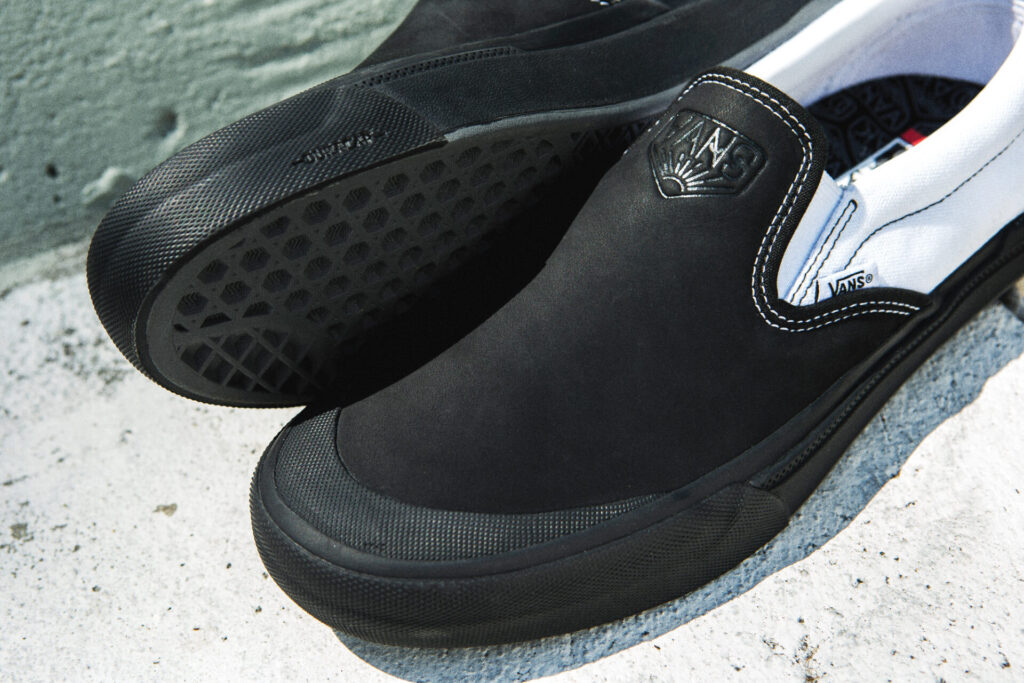 "The Slip-On Pro has been my go-to shoe for riding, skating and chilling for some time now. In my mind, the only thing that could make it even better was the tried and true Wafflecup BMX sole," Dak said. "My dreams came true in the form of a very stylish shoe that can take a heavy beating in the streets but also pair well with your fancy dinner kit."
Dak also lent his artistic talents to the silhouette, showcasing his original drawings on the heel and tongue: "It's an absolute honor to have my artwork incorporated in these bad boys. The sun is always a reminder to me to push through trying times, so it just made sense to subtlety tie it in."
Designed with the BMXer in mind, Vans Wafflecup BMX technology is a first of its kind for BMX, providing unrivaled support and durability without sacrificing pedalfeel. The Slip-On BMX Pro also features a rubber toecap for added protection and DURACAP reinforced underlays to prolong the life of the shoe.
Dak's creativity carries over into several everyday-wear apparel pieces, including a short sleeve pocket tee in antique white and a classic black snapback hat. Each feature his hand drawn artwork. In addition, Dak simultaneously released a curated Vans Spotify playlist, which includes songs and artists that he's kept close to his heart over the years: "Some emotional, some motivating, and some inspiring—something for every mood," Dak adds.
Dakota Roche grew up surfing, skating and riding BMX in Huntington Beach. With few local trails to hone his BMX skills, Dak was drawn to street riding. His tireless work ethic propelled him to worldwide attention early in his career, and more than a decade later, he's amassed a heavy collection of outstanding video parts, earning him the respect of the BMX community.
The Slip-On Pro BMX by Dakota Roche is now available at Vans.com.my
Post author:

iwan

Post published:

February 3, 2021

Post category:

Uncategorized
This is a Corporate Social Responsibility (CSR) project that fully sponsored by Vans Malaysia for Kuantan BMX community.


We had a discussion with Vans Malaysia last few month regarding this project. We choose Kuantan, Pahang because we can see that the BMX scene in Kuantan is growing and very active but they dont have a skatepark to ride.

So we make this initiative to help them to build an 'A-Frame' obstacle in a new area so that they can make that area active with riding activities and from there the local council or any other private company can see it and might build a new proper skatepark for them.
The ramp is located at Taman Teruntum Mini Zoo, very near to Teluk Cempedak. It has a very nice forest area and also near to the beach. The area is very easy to access and its open to everybody to ride there.

Why we choose to to build an 'A-Frame' obstacle is because this obstacle is easy to ride and we can build it fast since we have only one day to build it.

We hope that this effort could make Kuantan BMX scene grow bigger and better. Looking forward for more great BMX riders that come from Kuantan.
And we hope that Kuantan BMX community will keep on advocate a lot of riding activities like what they always did.
Thanks to Munir from Vans Malaysia for approving this project. Big thanks to Sunny (Ramp Master) for all the effort and hard work in building this ramp. Your cooperation are greatly appreciated.
Thanks to Abang Mus and Imran from Kuantan BMX Community for all the help to make this project happen.
Thanks to all the crews, Botax, Matno Penang, Boy Sarawak, Mack Stures, Syafiq and Omar for helping out in everything that we need.

And last but not least thanks to all Kuantan BMX community for the support and help that has been given.

We hope that we can do this kind of project again next time.